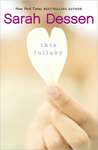 This Lullaby
by
Sarah Dessen
My rating:
4 of 5 stars
This Lullaby by Sarah Dessen is a great novel about family and love.
Summary from Goodreads:
When it comes to relationships, Remy doesn't mess around. After all, she's learned all there is to know from her mother, who's currently working on husband number five. But there's something about Dexter that seems to defy all of Remy's rules. He certainly doesn't seem like Mr. Right. For some reason, however, Remy just can't seem to shake him. Could it be that Remy's starting to understand what those love songs are all about?
I really liked Remy in this book. She was so great and realistic. Remy is spending the last summer before college with her friends. She broke up with her boyfriend so that she didn't have any attachments. But when she meets Dexter, everything changes.
I thought Dexter was a neat character. He was a disorganized rocker, who sounds like a perfect book boyfriend. He was the opposite of Paul, who they called "Perfect Paul" for a reason.
I did not really like the love triangle. It was too stereotypical. However, I did like the fact that Remy's dad was a singer, who became a one hit wonder with his song about her
The ending was so cool, and really emotionally sweet. It was perfect in a Sarah Dessen sort of way.
In conclusion, this is a really cool romance.
View all my reviews