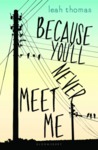 Because You'll Never Meet Me
by
Leah Thomas
My rating:
2 of 5 stars
Because You'll Never Meet Me is a very interesting novel.
In a stunning literary debut, two boys on opposite ends of the world begin an unlikely friendship that will change their lives forever.
Ollie and Moritz are best friends, but they can never meet. Ollie is allergic to electricity. Contact with it causes debilitating seizures. Moritz's weak heart is kept pumping by an electronic pacemaker. If they ever did meet, Ollie would seize. But Moritz would die without his pacemaker. Both hermits from society, the boys develop a fierce bond through letters that become a lifeline during dark times—as Ollie loses his only friend, Liz, to the normalcy of high school and Moritz deals with a bully set on destroying him.
A story of impossible friendship and hope under strange circumstances, this debut is powerful, dark and humorous in equal measure. These extraordinary voices bring readers into the hearts and minds of two special boys who, like many teens, are just waiting for their moment to shine.
I am writing this review now because I realized I finished the book a long time ago.
I started out reading this book thinking it was a realistic fiction. It definitely wasn't. The characters were abnormal and they talked about strange labs. I don't even know what genre this book would be considered. Maybe modern sci-fantasy?
Ollie was a little weird. He only loved one girl, and would do anything possible to get to his Liz. The relationship between them seemed false, and Ollie's mom was also strange. I don't really know what was going on with her. One good thing about Ollie is that his attitude was usually better.
Moritz was a bit more abnormal. He didn't seem to act like a real teenager. His friends were also strange, and the whole bully problem was just plain weird.
There were some redeeming qualities of this book. The letter format really worked, and the flashbacks were nice. It just wasn't my type of book.
Overall, this is a really strange book.
View all my reviews